Unison members to vote on possible strike action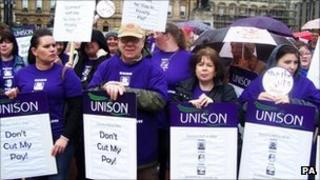 More than a million public sector workers are to vote on potential strike action in a dispute over pension changes.
The result of the ballot by the Unison trade union will be known by 3 November. If its members vote for industrial action, this is expected to start on 30 November.
Unison said it was fighting against government "attacks" on pensions.
The government said pension reform was necessary to protect taxpayers.
'Survival fight'
Staff set to vote include probation officers, nurses, social workers, teaching assistants, dinner ladies and hospital cleaners.
Unison is opposed to proposed pension changes that will see public sector staff have to contribute more to their pensions, and wait longer until they are able to retire.
A number of other public sector unions are also planning strike action on 30 November.
Unison general secretary Dave Prentis said: "We are doing everything possible to get a high turnout and we are confident of a big yes vote.
"This is a fight not just about whether it is right to increase contributions, but it's a fight for the survival of public service pension schemes."
A spokesman for the Department for Communities and Local Government said the proposed pension changes were still in the consultation stage.
"Instead of embarking on entirely unnecessary industrial action, Unison should instead be engaging in discussion and representing their members' interests," he added.
"We have made clear that those on salaries under £15,000 are unaffected by these proposals and our proposals also make clear that those who earn less will be asked to pay in less than high earners in the scheme," he said.