Power firms challenged on subsidy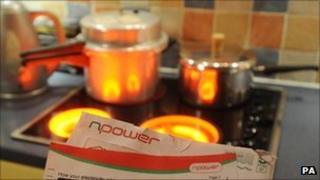 The government has told fuel companies they should give a £120 discount to all their customers who qualify.
The Warm Home Discount Scheme allows suppliers to limit the number of families and disabled people they pay.
But speaking on the BBC Breakfast programme, Energy Minister Greg Barker said he wants to see them "rising to the challenge" to include more.
E.On, nPower and SSE say they could not commit to give the discount to all those low-income customers eligible.
Cheaper bills
The £120 Warm Home Discount off one winter electricity bill will replace a number of other schemes which give reduced tariffs to some low-income customers.
Pensioners on the lowest incomes - below £103 a week single or £164 for a couple - will get it automatically.
Households with disabled people or a child under five should qualify for the discount if they also get a means-tested benefit, such as income support or jobseeker's allowance.
Up to 1.5 million might fulfil these conditions, but as the money for the scheme is limited, most firms had said they would pay on a first-come first-served basis.
That could mean individual firms limiting the payment to just a few thousand customers.
But British Gas gave the BBC's Money Box programme a commitment that all its customers who qualified and applied before the end of January would be guaranteed the discount.
Energy Minister Greg Barker has now challenged other suppliers to follow suit.
"Responsible energy companies like British Gas have said very clearly that all of their customers will be guaranteed a payment if they qualify," he said.
"And I want to see the other energy companies rising to the challenge in the same way."
Asked if would press them to do so he replied: "Absolutely."
No 'open-ended' promise
But other firms have said they cannot promise to pay everyone who qualifies.
A spokesman for SSE said: "We can't make that commitment now. We have signed up to what the government has already asked us to do and expect to support 35k-40k and have set no cap."
SSE also has 210,000 low-income customers on its existing Energy Plus Care Scheme, which gives a discount of between 10% and 30% on the standard tariff.
A spokeswoman for nPower would not commit the firm to paying everyone, but said: "At the moment we are honouring all eligible requests and hope to carry on doing that for the foreseeable future. We are looking at the situation to gauge the uptake."
E.On said: "We can't make any open-ended promise, but our scheme remains open and we are encouraging people to apply. There is still money in the pot."
The scheme only applies in England, Scotland and Wales, and covers the big six energy suppliers. Many smaller firms are not taking part.