Netflix scraps plan to spin-off DVD deliveries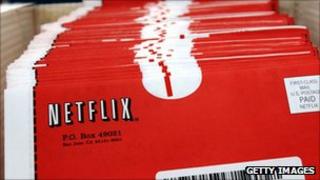 Netflix has abandoned plans to split off its DVD rental division into a separate business.
The online movie company told subscribers in September that it was spinning off its US disc delivery service and rebranding it as Qwikster.
Customers wishing to continue receiving DVDs and Blu Ray discs by post would have needed two separate accounts.
However, the firm's blog says it now accepts the move would have made things "more difficult".
As a result, members will be able to continue renting discs and streaming online films and television shows using a single Netflix password.
However, a July price rise will remain in place.
Chief executive Reed Hastings said: "There is a difference between moving quickly, which Netflix has done very well for years, and moving too fast, which is what we did in this case."
Backlash
Netflix had previously defended the split, saying it would help the company develop its streaming technology without needing to keep it compatible with its delivery business.
However, the two services would not have been integrated.
Customers would have to maintain two separate lists of the films that they wanted to watch. In addition, if they posted a review on one website, it would not have shown up on the other.
The announcement proved controversial.
Rolling Stone magazine suggested it might be the "worst product launch since New Coke", while the New York magazine reported that a "foul-mouthed pothead" was already subscribed to Twitter using the Qwikster name.
"I think they realised splitting the service and making it harder to use was a bad decision," said Andy Hargreaves, an analyst at Pacific Crest Securities.
"They had a lot of brand equity tied up in the DVD and movie delivery business. By separating it out, they were tarnishing that."
Netflix had already announced an unpopular price change in July.
Subscribers had to start paying separate fees to receive discs through the post and to watch online.
Members who kept both services saw their monthly bill rise by as much as 60%.
Netflix later admitted the decision had upset its members and it had to cut its estimates as a consequence.
Global Ambitions
Netflix shares rose more than 4% on the news that it is abandoning the Qwikster spin-off.
However, the firm's focus is likely to remain fixed on digital delivery.
The company recently began offering a streaming-only service to 43 countries across Latin America and the Caribbean.
Last month it also unveiled a tie-up with Facebook, allowing customers outside the US to share recommendations through the social network's website.
A launch in Europe has also been rumoured for some time. However, Netflix would face competition from Amazon's already established Lovefilm division which operates in the UK, Germany, Sweden, Denmark, and Norway.