European Union summit on the debt crisis is delayed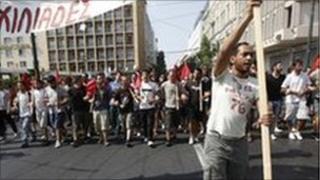 The president of the European Council has said that a summit of EU leaders to discuss the eurozone debt crisis has been delayed by a week.
Herman Van Rompuy said more time was needed to finalise a plan to give money to Greece and bolster debt-laden banks.
The summit, originally planned for next Monday and Tuesday, will now start on 23 October.
European regulators and the leaders of Germany and France have been engaged in intense talks for several days.
Mr Van Rompuy said in a statement that the delay will allow the EU "to finalise our comprehensive strategy on the euro area sovereign debt crisis covering a number of interrelated issues."
The 27-nation EU, and in particular the 17-country eurozone, have found themselves under growing market pressure to act.
Fears that Greece and other highly indebted countries will default on their debts, and cripple the banks that hold their bonds, have sent shockwaves through financial markets.
On Sunday, German Chancellor Angela Merkel and French President Nicolas Sarkozy said they were close to agreeing a comprehensive new package to ease the eurozone's debt crisis. However, they gave no details.
Mr Van Rompuy also said he had asked for an additional meeting of EU finance ministers ahead of the 23 October summit, so they can lay the groundwork for the leaders' decision.