Shares rise on French and German bank pledge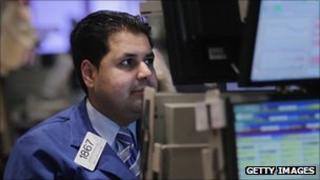 US shares have risen sharply as investors took comfort from the pledge by French and German leaders on Sunday to do what it takes to protect European banks from the debt crisis.
Markets were also buoyed by the bailout of troubled Franco-Belgian bank Dexia.
The main Dow Jones index closed up 330 points, or 3%, at 11,433, although trading volumes were low. Earlier, European markets saw strong gains.
The oil price also rose sharply, with US light crude and Brent crude up 3.5%.
Light crude rose by $2.92 a barrel to $85.90, while Brent was up $3.61 at $109.49. Earlier, Germany's Dax index ended the day up 3%, with France's Cac 40 and the UK's FTSE 100 about 2% higher.
Investors also took comfort from the fact that France, Belgium and Luxembourg announced a bailout of Dexia, dispelling fears it could go bankrupt.
The Belgian government said it would buy the bank's division in Belgium for 4bn euros ($5.4bn; £3.4bn), while Luxembourg's finance minister said a Qatari investment group was ready to buy the bank's Luxembourg unit.
"For now, the markets are rallying on the belief that there is forward momentum on dealing with the European bank crisis," said Andrew Busch at BMO Capital Markets.
"To me, this is an exercise in placing funding sand bags around the global banks to ensure they are not flooded by the rising river level of a Greek default," he said.
Fresh hope
Following talks with French President Nicolas Sarkozy in Berlin on Sunday, German Chancellor Angela Merkel said the two nations were "determined to do the necessary to ensure... the recapitalisation of Europe's banks".
The leaders said they were close to a detailed package to ease the crisis and would give further details within weeks.
Investors have been critical of the time taken by eurozone leaders to come up with a comprehensive solution to tackle the crisis, but there are now hopes that action will soon be taken.
All eyes are now on the G20 meeting in Cannes at the beginning of November, analysts say.