UK economy deteriorating, says BCC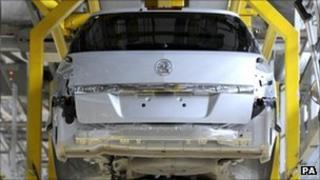 The UK economy deteriorated in the third quarter and is showing signs of stagnation, according to the British Chambers of Commerce (BCC).
The BCC says cashflow remains a real concern for many of the 6,700 businesses it surveyed.
Its director general, John Longworth, said recession could be avoided, but only through making "tough choices".
The BCC has downgraded its forecast for UK economic growth three times.
Its expects the economy to expand by just 1.1% in 2011, compared with 1.9% at the start of the year.
Last week, official figures showed the UK economy grew by 0.1% between April and June, less than the 0.2% estimated previously.
The Office for National Statistics also revised down growth in the first three months of the year from 0.5% to 0.4%.
Slow recovery
The BCC said the domestic market, exports, confidence, cashflow and investment in plant and machinery had all weakened over the past three months.
The balance of manufacturers creating new jobs fell, while in the services sector there was only a marginal increase in employment. There was little optimism in either sector about future recruitment.
Mr Longworth said: "The pace of the UK recovery will remain slow. We can avoid a recession but this relies on the government making some tough policy choices.
"While it is imperative that the government perseveres with its deficit-cutting plan, there must be a significant reallocation of priorities within the overall spending envelope."
Sales 'weak'
Meanwhile, a separate survey from the British Retail Consortium (BRC) showed some retailers were hard-hit by the unusually hot weather last month.
Clothing retailers - which are currently offering clothes for autumn and winter - saw their biggest sales drop in two years, although food sales were helped as people stocked up on goods for the barbecue.
However, overall like-for-like sales were up by 0.3% in September from a year ago.
For the July to September quarter, non-food sales were down 1.4% while food sales rose 2.1%.
Stephen Robertson, the BRC's director general, said: "In these harsh times, we have to be thankful for this minor improvement in growth compared with August but underlying conditions remain weak.
"Spending growth is below inflation meaning customers are buying less than this time last year. And there's no guarantee next month's figure will be better."
On Monday, a separate survey from accountancy group BDO also found that the recent hot weather had hit UK retail sales.