Acer to power London 2012 Games data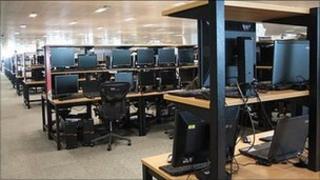 In a secret location somewhere in London thousands of computers and servers are churning away, processing test data of extreme importance to the UK over the coming year.
After leaving a lift which has glided past dozens of other floors straight to the computing centre, sliding doors swish open to give entry to a futuristic nerve-centre.
On the walls signs demand "How strong is your password?", and there are shredding machines along every wall and in every corridor.
Meanwhile, staff work silently peering into screens, processing their precious data.
But this is not some rocket launch site, major transport hub, banking centre, or even super-villain's lair - rather it is the Locog computer test lab for next year's Olympic Games.
While most people think about athletes and medal-winning glory when it comes to the Games, the event could not go ahead without thousands of people behind the scenes, including those working in technology.
"We have to deliver a full technology package for the Games, delivering hardware and services," says Michael Trainor, service project manager for the 2012 Olympics for Acer computers.
"We will be monitoring servers, managing technical issues and managing our technology staff."
'Key applications'
The Taiwan-based computer firm is a main partner of the International Olympic Committee (IOC), being one of its global stable of sponsors.
But Acer's primary task is to provide services for the London Organising Committee of the Games (Locog), the body responsible for making sure the global sporting show goes ahead smoothly next summer.
"Locog will run all their key applications on Acer servers," says Mr Trainor.
Tasks will range from normal back-office systems such as human resources, finance, and customer relationship management, to overseeing more specific and games critical needs.
These include workforce, accreditation and event scheduling applications.
Acer is also providing touchscreens for the broadcast area, as well as access control point technology at different sites.
During the Olympics and Paralympics some 300-plus Acer staff will be working, helping Locog hopefully operate smooth-running Games across a number of sites.
Test events
However, this is not the first Games experience for the firm, which provided a similar role at the 2010 Winter Olympics in Vancouver.
But next year the total number of people involved around the Games, from athletes to media to technicians, will be three times as many.
That means that the computing infrastructure has to be bigger too, and to be able to technically support 26 Olympic events being contested in both male and female categories.
And whereas the Vancouver games were based around one city, the 2012 event is being held not just at the main Olympic Park site in East London, but at other centres across the UK from Glasgow to Weymouth.
In total Acer has to deliver 10,000 desktop computers, 900 servers and 2,000 notebook computers, for use across all the Olympic sites.
And obviously such a large project cannot be left to chance or the hope that all will be "alright on the night".
For that reason, games organiser Locog and Acer have been this year been staging a series of test events covering a number of sports, in order to test computing equipment and other applications in a "live-event" mode.
"We had a very successful experience over in Vancouver and are taking that forward into London," says Mr Trainor.
"Discussions with Locog started three years ago, and since then we have been building up a good computer infrastructure and architecture.
"The main goal for us is to deliver something that is reliable from a performance perspective.
"At this stage we have probably completed 95% of the technology that we are delivering into the Games."
The other 5% will be delivered when Locog says it is ready to receive it.
Each sporting event being tested has its own computer "cell", complete with its own hardware and staff, at Locog's Integrated Test Laboratory.
A couple of week ago Acer was working with Locog on the archery testing at Lords cricket ground, and Mr Trainor says such events mean the firm is "constantly learning lessons".
One way to make the processes as risk-averse, and as consistent as possible, has been the decision to install exactly the same desktop computers everywhere since the installation rollout started back in 2009.
Operating centre
But Acer are not in the technology zone alone and are working with seven partners, such as network infrastructure partners BT and Cisco.
Last Monday, 10 October, all the partners opened a joint Technology Operating Centre, which, come Games time, will be staffed by up to 400 people from across the eight technology firms.
"We engage regularly with other partners, on a monthly basis at the top level, and on a week to week or day to day basis at a lower level," says Mr Trainor.
And, a recent review by the IOC left them satisfied with the technology progress to date said Mr Trainor.
"Technology is generally ahead of other areas, as those involved are bringing in expertise from other Games," he says.
'Buzz'
Meanwhile, Acer says it has probably appointed 50 people out of the 300-plus it will need by next July.
"We need to find the best time to bring those extra people in," says Mr Trainor.
At the different venues Acer will need to provide senior specialists and desk top technicians.
The firm will need to provide shifts of workers around the clock because if there is a problem, it could take too long to get staff to the venue in question, and then through security, to deal speedily enough with any issues.
"Getting the right amount of people scheduled in each area will be important," says Mr Trainor.
Post-Games it will be up to Locog to decide what will happen to the equipment.
But for now Acer are concentrating fully on what happens in the less-than-300 days before the Olympics begins.
"We feel a sense of responsibility and there is a real buzz," says Mr Trainor.
"But we want our people to be bored during the Games because it will mean nothing is going wrong."