Struggling Dubai Bank is taken over by larger rival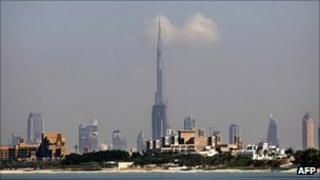 Dubai's ruler has ordered the city state's biggest lender by assets to take control of a troubled rival.
Emirates NBD's takeover of Dubai Bank reflects "efforts to enhance the banking sector in the emirate", according to a government statement.
The move comes five months after the emirate stepped in to rescue Dubai Bank because of mounting loan losses.
At the time, officials promised to invest an undisclosed amount of money into the business to protect deposits.
"The firm was set up to raise money on the international markets to fund government related entities," said Richard Thompson, editor of Middle East Economic Digest.
"It was overexposed to the emirate. So, when the Dubai property bubble burst and the wider credit crunch hit, it struggled, as it lacked a diversified business portfolio."
Consolidation looms
Before its rescue, Dubai Bank was jointly owned by an investment company belonging to the ruler of Dubai, Sheikh Mohammed bin Rashid al-Maktoum, and Emaar Properties, the developer of the world's tallest building, Burj Khalifa.
The statement announcing the deal said the acquisition was in line with the government's efforts to "enhance the banking sector in the emirate".
Emirates NBD is 55.6% owned by the government. Experts say the merger is no surprise.
"There still needs to be consolidation of the banking sector in the United Arab Emirates," said Robin Amlot, managing editor of Banker Middle East.
"In Dubai the government owns, either directly or indirectly, four Islamic banks including Dubai Bank. Consolidation was necessary and Dubai bank was the most obvious candidate."