UK economic recovery 'weakest since World War I''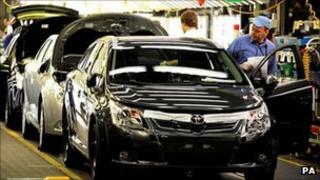 The UK's recovery is likely to be the weakest of any since the end of World War I, the National Institute for Economic and Social Research has said.
NIESR says UK economic growth edged up slightly to 0.5% in the three months to the end of September from 0.4% in the three months to August.
But the level of GDP is 4 percentage points below its pre-recession peak.
Earlier, figures from the Office for National Statistics data showed the manufacturing sector shrank in August.
The ONS data showed the UK's manufacturing output was 0.3% lower August than in July. Compared with a year ago, it was 1.5% higher - the weakest annual growth since February 2010.
Two surveys, from the British Chambers of Commerce and the British Retail Consortium also released on Tuesday, supported the picture of a struggling economy.
A spokesman for the Treasury said the reports showed that the UK could not "isolate itself from what is happening to our major trading partners."
He said the government's actions "to tackle the deficit and rebalance the economy [were] helping the UK economy to continue to grow... but that the financial turbulence in the eurozone and the weaker outlook for global growth means that the recovery will be choppy."
Last week, the Bank of England moved to boost activity by saying it would inject another £75bn into the economy through its Quantitative Easing (QE) programme.
NIESR says the recession is over, but full recovery will take some time.
It says it interprets the term "recession" to mean a period when output is falling or receding, while "depression" is a period when output is depressed below its previous peak.
NIESR says the depressed period will last for some time.