Appsense: Harry Labana looks for 'disruptive' innovation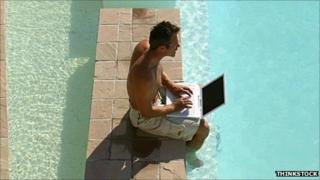 Each week we ask high-profile technology decision-makers three questions.
Appsense is a software company that specialises in user virtualisation.
Originally founded in the UK, Appsense has offices in New York and Santa Clara in the US, London and Manchester in the UK, and additional offices in Munich, Melbourne, Amsterdam, Paris and Oslo.
The company secured $70m (£44.5m) worth of Goldman Sachs funding earlier this year and its 2011 revenues were $71m.
Chief technology officer Harry Labana gave the BBC a few clues of how that money could be spent.
What's your biggest technology problem right now?
Trying to predicting the evolving future of technology.
It is vital to be clear about what the best technology opportunities are for us to invest time and money in and what are merely buzzwords.
The possibilities and potential of user virtualisation technology are vast and I need to ensure we continue to be innovative and focus our R&D (research and development) efforts in the right areas.
It is always a gamble as to whether you place your bets on improving and building on existing technologies or if you innovate into wholly new areas. My toughest task is to make sure Appsense has that balance correct and that we have the speed and flexibility to divert R&D resources as and when required.
I admire what Netflix has accomplished for example - a culture where they think big, start small, fail quickly and scale fast. A culture of tinkering and allowing people to experiment and fail quickly. If you don't do this I believe you become stale and static and will struggle to grow.
However, it can't be just irresponsible experimentation; it has to be about disruptive innovation. I ask my teams to think about their ideas from a number of angles. What will the end user need and pay for? How good does the solution need to be to meet the majority need and still make it hard for competitors to technically catch up? How can this optimise our business model, reduce/increase price, impact of marketing and increase repeat sales and renewals? Will our channel push this new innovation? How will our competitors respond?
Asking these types of questions allows us to take a balanced approach and produce innovations that are both sustaining and game changing. It allows us to explore our ambition, with some really cool innovation that creates a lot of positive of energy and is a lot of fun.
What's the next big tech thing in your industry?
A converged user experience within the post-PC world.
There is a mash-up of business and personal devices and apps within the enterprise IT space, leading to our working world becoming ever more consumerised.
That "post-PC" world - where users are much more tech-savvy than they used to be and expect to work from anywhere, and on tablets, smartphones, laptops, etc - is changing the way in which the enterprise IT departments function. Our new people-centric, always-connected world relies on flexible, on demand services. We need to focus on ensuring users have a seamless experience, irrespective of what device they are using. To do this, we need to understand how much user-DNA is needed to offer a truly converged experience.
Beyond that, as we move into creating a converged experience for users, security in the world of interconnected devices will come to the fore. So far the consumerisation of IT and user-driven IT policies is still the headline goal, but at some point, and I imagine very soon, security will become the focus again and the IT department will need to take back a degree of control in order to ensure devices are secure.
What's the biggest technology mistake you've ever made - either at work or in your own life?
Not considering the impact on users when rolling out significant IT changes that affect the way in which they work.
In a previous role I managed a desktop virtualisation project for a global financial services company that encompassed tens of thousands of users worldwide.
This rollout initially was very successful but we started to face a lot of resistance. We had focused a lot of effort on our early users, explaining why the changes were being made and most importantly how it was of benefit to them.
However as we progressed we let ourselves forget that all users needed that same level of change management and it was a mistake to let time pressures and a shift to rollout numbers take so much precedence. We fixed this by implementing a mandatory web-training program prior to rollout enabling us to answer all the basic questions and providing a mechanism for feedback and clarification.
But I learnt through this experience. I now know that when you take something away from the user or you offer them an experience that is significantly different to what they are used to, they will resist any change. This is human nature. But you can get user buy-in if you make it as painless as possible, while explaining why changes are being made and the value they will get from those changes.