Mothercare chief executive Ben Gordon to quit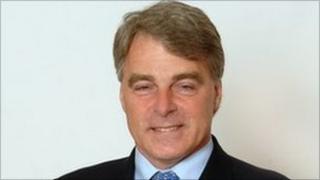 Shares in Mothercare have risen 10% after it said its chief executive will leave the retailer next month.
Ben Gordon, who has led the company for almost nine years, will leave "by mutual consent" on 17 November, when its interim results will be revealed, the company said.
Mothercare issued a profits warning last week - its second this year - after a 9.6% drop in quarterly sales.
Mothercare sells goods for mothers-to-be, babies and children.
News of Mr Gordon's departure saw the retailer's shares finish at £2.11 on Tuesday, up 10%.
Profits slump
In May, Mothercare announced pre-tax profits for the year to 26 March were £8.8m, down from £32.5m a year ago - a 73% drop.
By March 2013, the company is planning to have reduced its total store numbers to about 266 from 373.
While the firm has expanded overseas successfully, its UK arm has struggled amid the consumer spending slowdown.
Following Mr Gordon's departure, the executive management of Mothercare will report directly to the chairman, Alan Parker, while a new chief executive is sought.