99 Cents Only Stores agrees $1.6bn takeover offer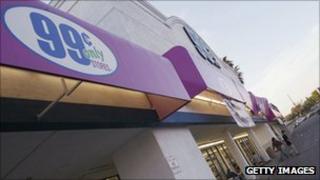 US bargain retailer 99 Cents Only Stores has agreed a takeover bid by a private equity firm and a Canadian pension agency worth $1.6bn (£1bn).
The company said the offer of $22 a share, made by Ares Management and the Canada Pension Plan Investment Board, represented "significant value" to shareholders.
The takeover should be completed during the first three months of next year.
The retailer operates almost 300 stores in the south and east of the US.
It first disclosed it had received a takeover offer in March this year, since when its shares have risen by about a third.
Analysts said the share price could continue to rise.
"The offer still undervalues the company a little bit," said James Ragan at Crowell, Weedon & Co.
"Investors are probably just cautious after a long drawn merger process. The stock price will move higher as people become convinced that the bid will go through."
Members of the founding Gold/Schiffer family said they supported the deal and would continue to hold a significant minority stake.
The company has performed well during the economic downturn as consumers look to save money.