Warren Buffett reveals $6.9m tax bill for 2010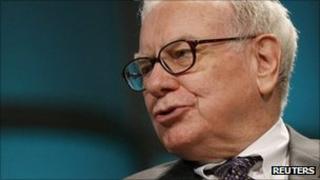 Billionaire investor Warren Buffett has revealed he paid $6.9m (£4m) in tax in 2010 on taxable income of $40m.
This represents a tax rate of 17.4% - a figure he disclosed in August - about half the rate paid by many Americans on more modest incomes.
In a letter to Republican Congressman Tim Huelskamp, Mr Buffett said his total earnings in 2010 were about $63m.
Mr Buffett has called on Congress to make him and his "mega-rich friends" pay more income tax.
In August, Mr Buffett, who runs the investment firm Berkshire Hathaway, said the rich should do more to help plug the government's budget deficit.
He called for a tax rise for those earning more than $1m a year, and a higher rate for those on over $10m.