China's trade growth decelerates amid global slowdown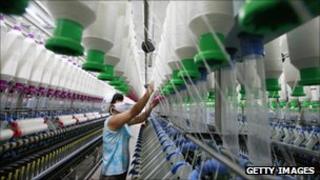 China's trade growth slowed in September, raising fresh concerns about the impact of a global slowdown on its economy.
Exports rose 17.1% in September, from a year earlier, but fell from a 24.5% growth in the previous month.
Meanwhile, imports rose 20.9%, down from a 30.2% jump in August. It left the trade surplus at $14.5bn (£9.2bn).
The data comes amid fears that a slowdown in the global economy will hurt China's export-dependent growth.
Analysts warned that given the uncertainty surrounding global economic growth, China's trade may slow even further in the coming months.
"Export growth in September was much lower than market expectations, showing the spluttering external economy," said Wang Hu, of Guotai Junan Securities.
"We expect the slowing export trend to continue in the coming months," he added.
Reduced risk?
China's trade surplus fell for the second successive month in September, down from $17.8bn in August and $31.5bn in July.
The fall comes amid a heated debate on a currency bill passed by the US Senate earlier this week, which many feel is designed to punish Beijing for its weak currency policy.
China has been accused of keeping the value of its currency low in a bid to boost its exports, a move that critics say gives it an unfair advantage.
If signed into a law, the bill will give US authorities powers to impose tariffs on goods imported from China.
Authorities in Beijing have voiced their displeasure with such a bill and have even threatened that it may lead to a full-blown trade war between the two countries.
However, analysts said the latest trade figures may help ease those tensions.
"The narrowing trade surplus will reduce the risk of a world trade war," said Zhang Zhiwei, at Nomura Securities.
Domestic demand
China's economic expansion over the past few years has been powered by the success of its manufacturing and export sector.
However, analysts said the country needs to boost its domestic demand in order to sustain that growth.
There are concerns that a slowdown in the US and Europe, may hurt demand for Chinese exports.
"Going forward, the effect of weakening external demand will slow export growth to mid-to-lower teens," said Jian Chang, at Barclays.
Analysts said an increase in domestic demand may help offset a slowdown in export growth.
"The next step is to see whether China will beef up efforts to boost domestic demand," he added.
While authorities have been taking measures to prop up demand in the country, analysts said they need to act more quickly.
"The key is how fast China can implement all these measures," said Shi Lei, at Ping An Securities.
"So far, it seems very slow,"