Rio Tinto reports strong output growth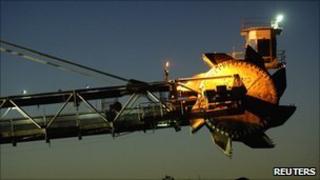 Mining giant Rio Tinto has reported record iron ore sales and strong output growth for the third quarter.
Iron ore output was 49.8m tonnes, up from 47.6m tonnes a year ago.
The world's second-largest miner of iron ore said it was operating "at full capacity" and selling all of the ore, used in steelmaking, it produced.
Whilst mindful of market volatility, "the fundamentals are holding up well, particularly for bulk-traded commodities," said boss Tom Albanese.
The miner's output of hard coking coal, another steel-making material, rose 14% in the third quarter from 12 months ago.
Rio Tinto also maintained its 2011 forecast for record overall production of 240 million tonnes.
Its Australian shares closed 2.8% higher at A$69.34.
China is the key market for the firm's iron ore business, but there have been concerns raised recently that the Chinese economy could be slowing.