Rolls-Royce sells its share in IAE to Pratt & Whitney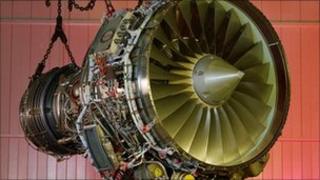 Rolls-Royce is selling its share in the International Aero Engines (IAE) joint venture to Pratt & Whitney.
Rolls-Royce owns 32.5% of IAE, which makes the V2500 engines for the Airbus A320.
It will be paid $1.5bn (£956m) and receive future payments based on the use of the engines.
The two companies are also forming a new joint venture to develop engines to power the next generation of mid-size aircraft.
The partners predict there will be demand for about 45,000 such engines over the next 20 years, which will power the replacements for the Airbus A320 and the Boeing 737.
Mid-size aircraft are those carrying between 120 and 230 passengers.
Rolls-Royce shares rose sharply on the announcement, gaining more than 6% by mid-morning trading.
Pratt & Whitney is part of United Technologies Corp, which is listed on the New York Stock Exchange.
As of 30 June there were about 4,500 V2500 engines in service with another 2,000 on order.
IAE was formed in 1983 by Rolls-Royce, Pratt & Whitney, Japanese Aero Engine Corporation and Germany's MTU Aero Engines.