JP Morgan profits fall due to eurozone crisis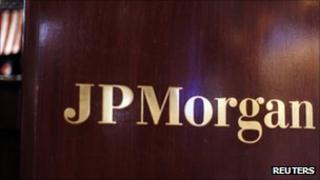 Profits at JP Morgan Chase have fallen 4% as the continuing debt crisis in the eurozone hit its investment banking arm.
The US bank made a net profit of $4.3bn (£2.7bn) in the three months to the end of September, compared with $4.4bn a year earlier.
JP Morgan Chase chief executive Jamie Dimon said the results were "reasonable given the current environment".
Its third quarter revenues fell 0.3% to $23.8bn.
Shares in New York ended 4.8% lower.
Mr Dimon added: "Our shareholders should rest assured that we are being extremely cautious while navigating through this challenging economic environment."
The company's profits were lifted by a $1.9bn gain due to adjustments to the market value of the bank's debt.
However, the bank also had to set aside $1bn for legal purposes connected to mortgage loans and securities.
Meanwhile, investment banking fees dropped by close to a third, to $1bn, as investors stayed away from markets.
Debt underwriting fees fell 37%, and stock underwriting fees fell by 47%.
Matt McCormick, a portfolio manager at Bahl & Gaynor Investment in Cincinnati, said he liked the quarterly results.
But he add that "the macro environment is stressed for JP Morgan and the majority of banks, and until Europe is resolved, a lot of their customers are going to be on the sidelines, and a lot of potential investors in their shares are going to be on the sidelines".
JP Morgan is the first major US bank to report its earnings, with Citigroup, Bank of America, and Goldman Sachs all to come next week.