More cash machines stock fivers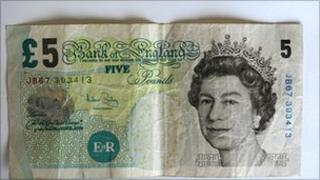 An increasing number of cash machines are dispensing £5 notes, the body that oversees the UK network has said.
Some 3,954 cash machines are loaded with fivers compared with 670 in 2009, the Link network said.
However, this remains a small proportion of the 63,000 machines in operation in the country.
The Bank of England has been working with operators to increase the frequency of the smallest denomination notes.
The 10 largest cash machine operators have committed to increase the frequency of fivers in place of higher denomination notes.
About 10% to 15% of their machines are being altered to dispense £5 notes.
The Bank of England is trying to improve the quality and availability of £5 notes. Many £5 notes have become grubby and torn, because they change hands more frequently and do not return for sorting as much as other notes.
More than 70% of banknotes initially reach the public via the UK's cash machines, from which £20 notes dominate.
"The committee's strong support for the expansion of the number of £5 note dispensing cash machines has helped to deliver an excellent result and help make cash even more convenient to consumers as part of their day-to-day lives," said Link chairman Ken Andrew.
Ron Delnevo, managing director of operator Bank Machine, said: "The UK public knows that the fiver is the most practical of notes and is a handy budgeting tool in good times and bad."