Fitch cuts ratings on UBS and warns 12 other banks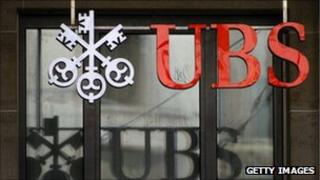 Ratings agency Fitch has downgraded Swiss bank UBS and put 12 other banks on notice that they may receive the same treatment.
Fitch referred to "increased challenges the financial markets are facing," as the eurozone debt crisis and government spending cuts continue to affect banks.
Among the banks put on negative watch for a possible future downgrade was Deutsche Bank and Goldman Sachs.
Earlier, Fitch cut the ratings on the UK's Lloyds and Royal Bank of Scotland.
Fitch cut UBS's long-term issuer default rating to A, from A+.
The downgrade comes after an alleged rogue trading scandal at UBS. Equities trader Kweku Adoboli was last month arrested for allegedly losing $2.3bn (£1.5bn) in unauthorised trades.
UBS said it would make a small profit in the third quarter despite the scandal.
The downgrades also come amid the ongoing eurozone sovereign debt crisis, which led to the European Banking Authority suggested on Thursday that European banks may have to raise a collective 200bn euros.
"The review is motivated by Fitch's evolving concerns about aspects of these business models and the structural challenges they face, particularly during periods of market stress," the agency said.
Fitch said the Swiss government was less likely to support UBS now - the same rationale it gave for cutting the ratings on Lloyds and RBS.
Earlier, JPMorgan Chase said its profits had dropped by 4% due to the continuing debt crisis in the eurozone.