China's inflation rate eases further in September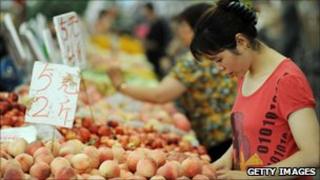 Inflation in China eased slightly in September but high prices, especially for food, remain a concern for the country's population.
Consumer prices rose 6.1% last month, compared with the same month last year, the National Bureau of Statistics said.
That is down from 6.2% in August and from 6.5% in July, a three-year high.
The government had put policy tightening on hold as the eurozone and US debt crises threatened global growth.
Previously though, Chinese authorities had introduced a slew of measures to cool prices, lifting interest rates five times, and bank reserve requirements nine times since 2010.
Downward trend?
Some analysts said Friday's slight dip reinforced views that inflation is on a downward trend.
"This confirms that inflation peaked in July," said Chi Sun, an economist with Nomura in Hong Kong.
"Policy will be on hold. We think inflation will slow down gradually in the coming months."
On Thursday, the International Monetary Fund (IMF) warned that inflation in some Asian countries is still too high. But it added that consumer prices could ease after peaking this year.
However, other market watchers said it was too soon to say that inflation was no longer a worry.
"The slowdown in [the] consumer price index last month is not drastic enough to reduce inflationary expectations, and it is still too early to confirm an easing trend in price pressures," said Qiao Yongyuan, from CEMB in Shanghai.
Food setback
Nonetheless, the high price of food continues to cause concern.
The food component of inflation rose 13.4% in September from the same month last year, the data on Friday showed. That is unchanged from the level in August.
The government has implemented measures, such as increasing supply, to bring down the price of pork, vegetables and other basic foods.
However, those efforts suffered a set back when summer storms destroyed crops.