Indian inflation eases slightly but remains high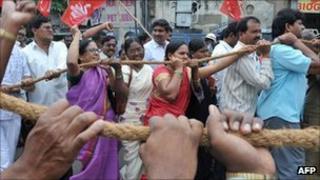 Indian inflation eased slightly in September, official figures have shown, in line with market expectations.
The wholesale price index rose at an annual rate of 9.72% in September, compared with 9.78% in August.
Despite the slight slowdown, analysts still expect India's central bank to increase interest rates one more time this year to try to calm price rises.
The Reserve Bank of India has raised its core interest rate, called the repo rate, 12 times since March 2010.
The most recent increase was announced on 16 September, when the repo rate was raised by 25 percentage points to 8.25%.
The central bank is next meeting on 25 October.
The wholesale price index is the most closely watched guide to inflation in India because it covers more products than the consumer price index.
August's inflation rate was a 13-month high.
India's continuing high inflation has sparked a number of protests across the country.