Inflation and the squeeze on shops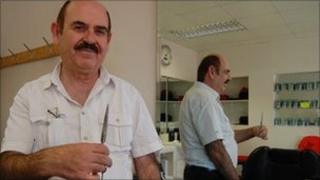 At George Liasi's barber shop, staff make their money from cuts.
But one thing they say that has not been reduced since 2005 is the price of a haircut.
Mr Liasi, who has 47 years of experience cutting hair, says that he has always charged £9 for a gentleman's cut since he took over at the shop.
But this is not a picture mirrored across the country, where shops are raising their prices - usually because they are facing cost pressures from their own suppliers.
This is putting the squeeze on consumers, who are seeing the cost of living rise rapidly. Latest official figures showed that the rate of inflation jumped to 5.2% in September, the highest rate for three years.
On their toes
Mr Liasi admits that, while he has frozen his prices, there remain good days and bad days for his business.
He says his regulars keep coming back for "a good haircut", but the frequency of those visits may have been affected by the squeeze on people's finances.
Down the road in South Ruislip in west London, at specialist outfitters Dance Partners, Elaine Ingram says she is being forced to put up prices more regularly as suppliers increase their charges.
Not so long ago, suppliers were asking for more every two or three years, but now it was more like two or three times a year.
"People come to the shop, but if prices keep going up, it will force customers onto the internet," she says, as she put together her Halloween window display.
"If their children really want something they will pay for it, but they are thinking much harder about whether they really need it."
Mrs Ingram, who has run the store for 18 years, says that takings are the same as last year, but their costs have gone up.
Target
Although many consumers are facing rising prices, they are happy to spend on quality - for those occasional purchases, according to a neighbouring shopkeeper.
Sunny Gill, manager of Windmill Heating, says refitting a bathroom in a home might be something that most people only do once in their lifetime, or every 10 years at the most.
"Prices are always going up and we have to change our prices according to the market. I know of nothing that comes down in price," he says.
That has been true in recent months, when prices have been rising faster than the government's inflation target.
At the same time, pay packets are failing to keep pace with this cost of living increase, surveys suggest.
The VocaLink FTSE 350 Take Home Pay Index, a measure of private sector earnings, showed that annual pay rose by 2.2% in September, compared with 2.7% in August.
This was the third consecutive month of declining take home pay growth recorded by the index. In the public sector, pay growth stood at 2%, the highest rate of growth for the sector this year.
"Unless economic conditions show signs of improving, employees will not see their pay packets getting any bigger in the coming months," says Doug McWilliams, chief executive of the Centre for Economics and Business Research.
And pay awards next year are unlikely to keep up with inflation according to research by Incomes Data Services (IDS).
A survey of a small sample of UK firms suggested that more than half of those asked intended to make the same level of pay award in 2012 as they did in 2011.
The median average increase for 2011 was 2.5%, compared with 2% in 2010.
Predicting the inflation level is difficult, but even if the rate falls, the loss of real income this year for most workers will not be made up.
"Going into 2012, there are conflicting pressures on pay. If the [threat of] recession recedes, there may be pressure for higher awards, particularly at firms where increases were lower or zero before," says Ken Mulkearn, editor of IDS Pay Report.
"Continued high inflation adds to this pressure. But the uncertain economic outlook, and the impact of public sector cuts on both the wider economy and the labour market will make for a tougher climate when it comes to decision-making on pay.
"At a time when the economic backdrop is challenging, ways of using reward to stimulate employees will gain in importance. While some firms may be able to award increases in line with inflation, most will have to be inventive in designing reward packages that achieve the aim of recruiting, retaining and motivating staff."