Wal-Mart China's chief executive officer steps down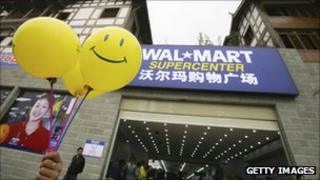 Wal-Mart's China operations have been dealt another blow after its chief executive officer Ed Chan and another senior executive resigned.
The resignations come amid accusations that the company mislabelled normal pork as organic for over two years.
The allegations led to the closure of 13 stores and detention of 37 Wal-Mart employees.
Wal-Mart said Mr Chan's resignation was not related to these issues and he had for quit personal reasons.
Clara Wong, senior vice president of People of Wal-Mart China, also stepped down.
'Very important'
The success of China's economy has given rise to a more affluent middle class with higher disposable incomes, turning the country into one the world's fastest-growing consumer markets.
Wal-Mart has been looking to tap into this vast potential. The firm has 344 stores in the country, of which 53 have opened over the previous 12 months.
However, its expansion in the country has not been entirely a smooth one.
In February, China's National Development and Reform Commission accused Wal-Mart, and its French rival Carrefour, of manipulating prices at 19 stores.
The firms were ordered to pay a combined fine of 9.5m yuan ($1.5m; £955,000) to resolve the matter.
Scott Price, CEO of Wal-Mart Asia, who will take over from Mr Chan as the interim China head, said despite the recent controversies, the company was focussed on growing its business in China.
"China is a very important market for Wal-Mart and China's 12th five-year plan will provide strong opportunities to the retail industry." Mr Price said in a statement.