Viewpoint: The growing power of Asian consumers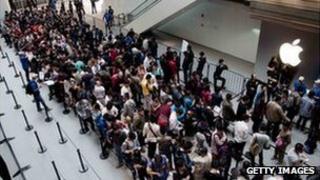 There are now legitimate concerns that consumption demand from Europe and North America will remain weak for years.
Indebted, unemployed and uncertain of future pensions, consumers in the West may take a long time to spend again.
Even if incomes recovered, it is quite possible that people will prefer to save rather than splurge.
The conventional view is that emerging markets cannot fill the void because they are essentially producers and exporters rather than consumers and, consequently, weak demand in the West is seen to doom the rest of the world to stagnation.
Fortunately, there is reason to believe that the world is no longer so lopsided.
China's clout
China is now the world's second largest economy but, as many commentators like to point out, private consumption accounts for only a third of its economy (compared with 70% in the US).
However, even allowing for the low share of private consumption, the combined size of the consumer markets in developing countries is no longer small.
For instance, the combined consumer demand of China, India, Brazil and Russia is almost the same size as the US when the data is adjusted for purchasing power parity (PPP).
The PPP conversion corrects economic data for the differences in price levels between countries. Once adjusted, we find that China alone amounts to 40% of US demand while India amounts to almost 30%, and Brazil and Russia 13% each.
For readers who are suspicious of PPP conversions and prefer nominal dollars, note that China's economy is growing by 16% per year in US dollar terms - the usually cited 9% growth rate is in real gross domestic product (GDP) terms and under-represents the relative shift in economic power unless adjusted for PPP.
In other words, whether in real or nominal terms, China already has a great deal of clout. We can gauge this from the fact that in 2010, China sold 18.4 million cars compared with 11.8 million in the US.
With wages rising by 15-17% a year and savings rates high, there is plenty of scope for demand decompression. This is why the Gap retail chain announced last Wednesday that it would close 190 stores in North America but triple the number of stores in greater China to 45.
Leisure spending
Things are changing rapidly in other developing countries as well. Moreover, the increase in consumption is not just restricted to goods but is clearly visible in services such as entertainment and telecommunications.
The Indian Premier League, for instance, is now the second highest-paying sports league in the world after the NBA. What makes this especially remarkable is that the cricket tournament was started as recently as April 2008.
Similarly, Brazil is witnessing a return of many of its soccer players from Europe. Spending on new players in Brazil rose 63% in 2010 compared with a 39% drop in Europe.
While emerging markets as a whole have become more important, it should be recognised that Asia is at the heart of the transformation. With a 60% share of consumer demand, Asia dominates the emerging markets.
In comparison, Latin America has a 20% share, emerging Europe 14% and Africa 6%. People tend to focus on China and India, but Asia also includes other populous countries like Indonesia (population 244 million) and rich ones like South Korea.
Growing independence
Indeed, the combined economic size of small Asian nations like Singapore, Hong Kong, Taiwan and South Korea now adds up to that of United Kingdom.
Their consumer market may still be smaller than the British market because of their high savings rates but we are now dealing with scales that are comparable to major Western economies.
Of course, it remains true that Western markets are still very important for Asian exporters and weak sales in Europe and North America will hurt them.
However, it is also true that consumption power is now more evenly spread across the world. It would not be unreasonable to say that Asia can survive a slowdown, albeit not a collapse, in Western consumer demand.
Moreover, it grows ever more self-sufficient with each passing year.
Sanjeev Sanyal is global strategist for Deutsche Bank based in Singapore. The opinions expressed are those of the author and are not held by the BBC unless specifically stated. The material is for general information only and does not constitute investment, tax, legal or other form of advice. You should not rely on this information to make (or refrain from making) any decisions. Links to external sites are for information only and do not constitute endorsement. Always obtain independent, professional advice for your own particular situation.