House builder Bellway's profits rise 50%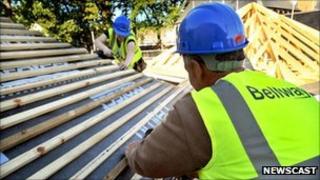 UK house builder Bellway has reported a 50% jump in annual pre-tax profits to £67.2m during a year in which it said the market had "stabilised".
Higher sales, better margins and tighter cost control were behind the improvement, with turnover in the year to 31 July up 15% to £886.1m.
Houses sold by the Newcastle-based group increased 7% to 4,922, with the average price up 8% to £175,613.
Trading across the country had been "encouraging", Bellway said.
Reservations in the first nine weeks of the new financial year were also 11% ahead of the same period last year.
As of 30 September, the company had an order book of £418.8m, against £396.7m last time.
Chairman Howard Dawe said that "against a backdrop of ongoing economic uncertainty", Bellway "has performed very well".
The final dividend for the year increased to 8.8p, from 6.7p.