Shares fall on France and China concerns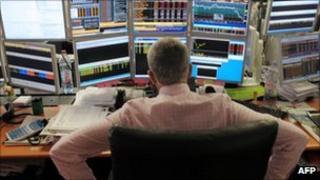 European shares have fallen after Moody's warned about France's credit rating and figures showed a slowdown in the rate of China's economic growth.
Disappointing results overnight by US computer company IBM also hit sentiment.
France's main Cac index closed down 0.8%, while the UK's FTSE 100 fell by 0.5%.
Moody's said it may change its "stable" outlook on France's top AAA rating to "negative" in the coming months.
Explaining its announcement, the rating agency said the financial strength of the French government "has weakened".
It added that it was concerned about the impact on French finances of the government having to contribute more funds to help bail out indebted eurozone countries and commercial banks exposed to eurozone sovereign debt.
EU summit
Moody's warning about France renewed concerns about the eurozone debt crisis.
European Union leaders are due to meet on Sunday to try to agree on concrete proposals to solve the debt crisis, but a number of reports suggest no definite measures may be agreed.
Separately, new figures showed that China's economic growth slowed to 9.1% in the three months to the end of September from a year earlier, down from 9.5% in April to July.
The slowdown in the world's second-largest economy comes as the Chinese government continues measures to control inflation.
Japan's main Nikkei share index ended down 1.5% following the news, while Hong Kong's Hang Seng index dropped 4.3%.
On Monday, IBM said that its third quarter net income had risen 7% from a year earlier, barely meeting Wall Street forecasts.
The company's shares fell more than 3% in after-hours trading in New York.