Coca-Cola reports $2.2bn profit and 45% revenue jump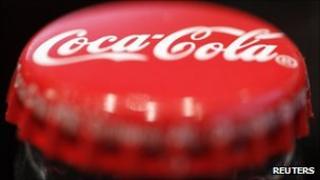 Coca-Cola, the world's largest drinks manufacturer, has reported a third-quarter profit of $2.2bn (£1.4bn).
This was a 9% rise on the same period last year. Its revenues rose 45% to $12.3bn.
Coca-Cola's revenues were helped by price rises and its acquisition of its North American bottling operations.
Its volume sales rose 5% globally and by the same level in North America. Sales in Europe were up 2%, and by 7% in China.
Emerging markets
Rising costs have eaten into profit margins at the company, and in the US it raised prices by about 2% to offset these higher costs.
Coca-Cola is increasingly focusing on emerging markets such as Latin America, India and China to drive growth.
Sales in these regions outperformed Europe and North America. In India volumes increased by 17% and in Argentina they rose by 11%.
Muhtar Kent, Coca-Cola's chairman and chief executive, said: "We continue to strategically invest in consumer marketing and sales execution, all with a single-minded goal of becoming the beverage leader in every market and in every category of value to us."