Whitbread sales lifted by coffee and hotels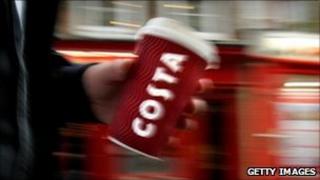 Whitbread, Britain's biggest hotel and coffee shop operator, saw pre-tax profits rise 15.2% to £174.9m in the six months to 1 September.
The company behind the Premier Inn and Costa Coffee chains had turnover 10.7% higher at £891.3m during the period.
"This is a good set of results demonstrating the strength of our brands in tough market conditions," said chairman Anthony Habgood.
Whitbread also runs the Beefeater and Brewers Fayre pub restaurant chains.
Premier Inn sales rose 10.6% to £393.4m, while Costa's sales rise was 26.3% to £250.8. But restaurant sales edged up only 0.5% to £248.5m.
Whitbread said Premier Inn benefited from good demand from both business and leisure customers.
Revenue per available room, a key industry measure, rose 4.4% nationally, and 11.4% in London.
Whitbread's shares, which have risen strongly this year, initially rose more than 2%, but had lost their gains by midday.
Liberium Capital analyst Nigel Hicks said: "Whitbread has delivered in a difficult [economic] environment and can accelerate earnings when market conditions become more favourable."