Indonesia reshuffles cabinet to boost economy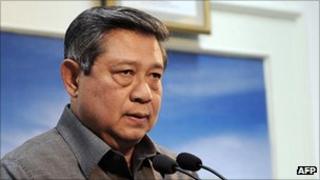 After days of delicate negotiations and political wrangling, Indonesia's new cabinet has finally been announced.
President Susilo Bambang Yudhoyono has been under pressure to change the line-up of his government, after coming under attack for failing to perform in his second term.
He was re-elected on an anti-corruption platform, and on promises to improve growth prospects in South East Asia's largest economy.
But is his new cabinet up to the job?
Private meetings
Over the last few days, the names of Indonesia's new ministers have been trickling in, some appointments being met with incredulity, others with relief, and some with a great deal of scepticism.
One by one, some of the most prominent names in Indonesian politics and business were invited to meet with the Indonesian president at his private residence, and in the elaborate theatre that often accompanies Indonesian politics, ceremoniously handed their new jobs.
Finally, late on Tuesday night the new cabinet line-up was announced to a nation that had been waiting to see what form it might take.
It would be fair to say there's been a great deal of disappointment with President Yudhoyono's second term. He was seen as the Mr Clean of Indonesian politics - and was voted back to power in a landslide victory.
Indonesians are on the whole loyal, and they gave him their support for a second time - in the hope that he would boost economic growth, provide jobs, and clamp down on corruption.
But President Yudhoyono's popularity has plunged on the back of allegations of corruption within his own party, and critics say that he has not been determined enough to push through key economic reforms, without which growth could be compromised.
The Indonesian leader is often seen as a weak and indecisive president, giving in to coalition politics rather than forcing his will through parliament.
While Mr Yudhoyono won the outright majority of public votes in the last election, he failed to get a majority in parliament - analysts say this has made it difficult for him to push through the economic changes he would like to.
Which is why the appointments of professionals in key economic cabinet posts is being applauded by some in the business community.
Domestic support
Gita Wirjawan, the former head of the investment co-ordinating board tasked with attracting foreign direct investment to Indonesia, is now Indonesia's trade minister.
Mr Wirjawan is well respected, both within Indonesia and overseas. He brought billions of dollars worth of investment to Indonesia's shores as the country's investment chief.
But his new job could prove a bit trickier - local businesses are looking to him help them compete more fairly with the influx of cheap Chinese goods, post the Asean-China free trade deal. He will be under pressure to show that he supports domestic manufacturers at a time when Indonesia's economy is also likely to come under pressure from the global slowdown.
Foreign investors say it is key that Indonesia handles this challenge wisely.
Ghirish Pokardas at the Boston Consulting Group tells the BBC that the new cabinet has its work cut out.
"Indonesia is an attractive place for foreign investors - but why don't more come here?
"It's because they aren't sure about how much control they have to be able to recoup their investment. Indonesia's new cabinet needs to start critically institutionalising the changes it wants to make so that there is a clear and transparent system of governance in place to attract more businesses to this country."
'Banging heads'
Meanwhile, the finance minister's post is often said to be the most dangerous job in Indonesian politics, because the person sitting in the hotseat needs to have the wherewithal to go up against some of Indonesia's most powerful business elite.
Last year, former finance minister Sri Mulyani resigned after clashing with well-connected Indonesian businesses.
Many thought the current Finance Minister Agus Martowardojo might lose his job given his penchant for banging heads with some of the country's most powerful people.
But many believe he has done an admirable job of charting Indonesia through the current economic turmoil, and given the uncertainty of the next few years, analysts say that President Yudhoyono probably wanted to have a sense of continuity in some of the key ministries.
But that continuity is also being seen as "more of the same" by some in Indonesia.
"The most remarkable factor about the reshuffle is just how superficial it is," says Keith Loveard of Concord Consulting in Jakarta.
"Now that we have the full list of changes, it is a real comedown, with very few of the major ministries getting new faces. On the whole, this does not add up to a recipe for a vastly more effective cabinet that people had been hoping for."
'Courageous move'
Others aren't so harsh in their assessment of the Indonesian leader.
"You have to look at his decision to get rid of non-performing ministers - that was a courageous move," says Yuli Ismartono at Indonesia's Tempo magazine.
"But balance that with the fact that he didn't get rid of many of the ministers from Islamic parties, and one has to think that our president could have done better."
It is a sentiment many Indonesians share. Out on the streets of Jakarta, there's still a great deal of scepticism about whether these new appointments will make much of a difference to the lives of ordinary Indonesians.
Saptono, an IT professional, says that the economy is the biggest priority for him.
"There is now an economic slowdown in Europe. We will be impacted. We hope that the new cabinet in the next three years can implement clearer policies on the economy while maintaining the nation's political stability," he says.
The next three years of President Yudhoyono's final term are extremely critical for him, and for the country. He has to convince the people who voted him back in for a second time that he deserves their support.