Mervyn King urges China to import more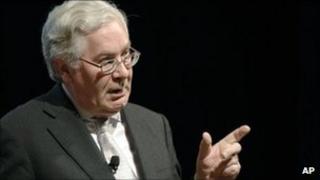 Bank of England governor Mervyn King has called on China to import more to help solve global financial problems.
"Four years after the financial crisis began, the foreign exchange reserve holdings of China are substantially larger than at the onset of the crisis," he said in Liverpool.
It is a theme he is likely to take to next month's G20 summit in Cannes.
He also said it was time to accept that the problems in the global economy were about "solvency not liquidity".
And he stressed the Bank of England's view that UK inflation had peaked.
Official figures on Tuesday morning showed Consumer Price Inflation (CPI) had reached 5.2% in September.
"We expect inflation now to start to fall back," he said.
Mr King explained that countries such as the UK and the US, which import more than they export, were facing debt problems and had unsustainably high levels of consumption.
On the other hand, countries such as China, Japan and Germany had persistent trade surpluses.
He argued that in order for countries with trade deficits to sort out their debt problems, countries like China had to import more, so that indebted countries had a chance to grow their economies and pay off their debts.
"Countries have responsibilities to each other, and we need to work with our partners overseas to find a solution to present problems," he said.
'Special concern'
Turning to the domestic economy, Mr King said banks needed to be given incentives to lend money to small and medium-sized companies.
"There is special concern about their ability to obtain credit," he said.
He also explained why the Bank of England's monetary policy committee (MPC) voted to expand its programme of quantitative easing two weeks ago, despite the continuing rise in inflation.
"It is the outlook for inflation, rather than its current rate, which explains the MPC's decision to resume asset purchases," he said.
His comments came in a speech at St George's Hall in Liverpool.