Intel shares boosted by 17% rise in quarterly profits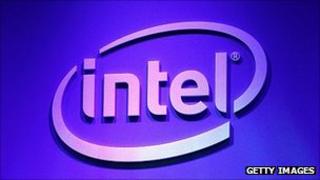 Intel shares rose 4% after the chipmaker reported a 17% gain in third-quarter profits.
Intel's net income for the three months to September was $3.47bn (£2.2bn) compared with $2.96bn last year.
The figures beat market expectations and defied concerns that global demand for PCs and laptops has been hit by growing sales of tablets.
Intel's chips are used in four-fifths of the world's PCs but the firm has yet to succeed in the mobile market.
Devices like Apple's iPad and Google's Android smartphones are depressing demand for laptops in markets like the US and Europe.
However, Intel says demand from China and other developing countries has helped offset slower growth in its mature markets.
"Emerging markets are good, enterprise is strong, the mature market consumer is a little bit weaker," said Intel chief financial officer Stacy Smith.
Intel has also been helped by corporate IT spending which has aided the sales of its more profitable server chips - used in data centres.