Bank of England's MPC united over quantitative easing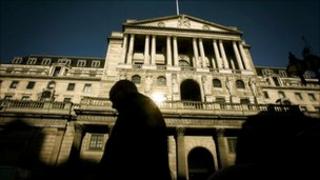 The Bank of England's Monetary Policy Committee (MPC) was unanimous in voting for another £75bn of quantitative easing (QE) to support the weak UK economy.
Minutes from the MPC's meeting earlier this month show members considered injecting between £50bn and £100bn.
The committee cited a sharp deterioration in the international outlook as a key factor.
The vote for more QE marked a sharp turnaround in the members' positions.
At the previous meeting in September only one MPC member, Adam Posen, had pushed for more QE.
All members voted to keep interest rates unchanged at their record low of 0.5%, despite inflation running well above the 2% target rate.
Figures released on Tuesday showed consumer price inflation rose to 5.2% last month.
The MPC's minutes showed that the committee was expecting inflation to be above 5% in the near term, boosted by increases in energy prices.
But its view is that domestically generated inflation had remained contained and would fall back next year.
Falling prices?
In a speech on Tuesday evening, the governor of the Bank of England, Mervyn King, said inflation would fall sharply in 2012 when the January 2011 rise in VAT dropped out of the data and the effect of past oil price rises started to fade.
The MPC minutes echoed this, saying that there was "little further upside news" on the outlook for inflation. In fact, the Bank was more concerned that without extra QE, that could fall below target.
They also pointed out that financial markets were trading on the expectation that UK and US interest rates would remain unchanged for two years.
Chris Williamson, chief economist at Markit, said the votes highlighted the delicate state of the UK economy.
"The speed with which the economic outlook has deteriorated is highlighted by the fact that all members of the MPC voted for the additional £75bn of quantitative easing earlier this month, with some members even voting for a larger stimulus," he said.
"This is a marked contrast to the September meeting, when just one member (Adam Posen) voted for more QE."
The MPC said it did not expect the impact of this round of QE to be materially different to the £200bn of purchases made between March 2009 and February 2010.
A Bank report into the effect of the first round of QE found the stimulus measure helped gross domestic product increase by about 1.5% to 2%.