Thai interest rates kept on hold despite floods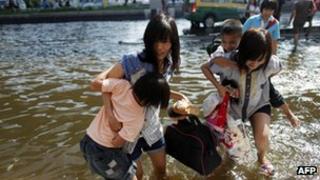 Thailand's central bank has left interest rates on hold at 3.5%, despite calls for them to be cut to help the economy recover from the worst floods the country has seen in decades.
Instead, the Bank of Thailand said government spending to aid the flood recovery could raise inflation.
Flooding in the north and centre of the country has killed at least 317 people since July and damaged farmland.
The core interest rate has been raised three times over the past 15 months.
This has increased it from a record low of 1.25%.
Thailand's Finance Minister Thirachai Phuvanatnaranubala said on Tuesday that the country's economy was now likely to grow by only about 2% this year as a result of the flood damage, compared with a previous estimate of 4%.
In addition to damaging farmland in the world's biggest exporter of rice, the floods have caused a number of industrial sites to close.