Nokia's rocky road to a Windows Phone tie-up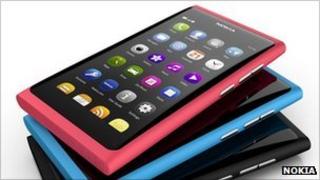 Despite all of Nokia's problems, it is worth remembering that until recently the company was still the world's best selling smartphone maker.
A report by the research firm Gartner suggests that in the April-to-June quarter, the Finnish firm accounted for just over 22% of the smartphone market.
Devices running Google's Android system may have claimed roughly double that market share, but they were split between Samsung, HTC and others.
However, Nokia only maintained its lead by making price cuts after it saw a build-up of unsold stock. That only partly masked the truth that sales had been on a downward trend for some time.
Its latest results reveal a 38% slump in sales of "smart devices" over the past year.
Nokia's 16.8 million units sold puts the firm behind Apple's 17.1 million iPhone tally.
Samsung may trump the two when it reports later this month.
Switch from Symbian
One has to ask whether the firm's heart has been really in it.
Over recent months, chief executive Stephen Elop has appeared more keen to talk about Nokia's upcoming Windows Phone 7 handsets than its existing line-up.
Until recently, Nokia's smartphones all used its Symbian operating system. The software dates back to 1997, when it was used to run Psion devices.
Over the years, Sony Ericsson and Samsung both adopted and then dropped the platform, opting to switch to Android.
Legacy issues, involved with trying to update an ageing system, had proved problematic.
"When they tried to take a user interface that wasn't designed for touch into touch, they ended up with a compromise that didn't deliver what it was supposed to," says Carolina Milanesi, a research analyst with Gartner's mobile devices team.
"Developers also found the tools cumbersome to use."
Nokia's original solution, confirmed in June 2010, was to switch its N-series phones to a Linux-based system called MeeGo.
Developed in conjunction with Intel, the software promised to offer Nokia the chance to offer a more polished interface.
But by this point, shareholders were become restless as they saw Apple's iPhones gaining marketshare.
Chief executive Olli-Pekka Kallasvuo was ousted and the board hired Mr Elop, an outsider, to replace him.
"They went through a review process of their platforms quite rapidly after [Mr] Elop came on board and realised it would take too long to get to where they needed to be competitively with either Symbian or MeeGo," said Marek Pawlowski, editorial director of the mobile industry research firm, PMN.
"They realised they needed to partner with someone who was an expert in software."
Wedded to Windows
That someone was Microsoft, Mr Elop's former employer. He announced the news alongside his ex-boss, Steve Ballmer, in London in February.
So it may have been bittersweet news that when Nokia's first MeeGo device, the N9, was released last month, it won positive reviews.
Even so, most experts agree the decision to focus future efforts on Windows Phone 7 is the right one.
"There is no ecosystem. Meego has a good user interface, but they don't have the applications and that doesn't happen overnight," says Ms Milanesi.
"If they stuck with it, it would have taken over a year to get scale. And Nokia can't afford to take a year and get further left behind Google, Apple and Blackberry."
Nokia's first device running Windows software, codenamed Sea Ray, is expected to be launched at the Nokia World event in London next week.
The firm may be mindful that Microsoft's system has not won much traction, despite already being offered on devices from Samsung and HTC.
However, experts say other handmakers have preferred to focus on their Android devices while Microsoft worked at improvements, such as adding multi-tasking.
That may play to Nokia's advantage, giving it the chance to become synonymous with the Windows Phone experience.
"What Nokia can do is to offer the Nokia brand - and there are still lots of users who are loyal to the company and are looking for an upgrade," said Ms Milanesi.
"And because of scale, it can offer price points that the other manufacturers might not be interested in."
Nokia can also offer other services that rivals phonemakers lack, such as its Navteq mapping software.
Even so, the company may find it harder to dominate the global smartphone market in the manner it did with its less advanced models.
Google and Apple have only just released updates to their handset software, and Blackberry maker RIM is showing off its upcoming BBX system.
"A lot will depend on what comes out next year when Nokia launch more Windows Phone devices," says Mr Pawlowski.
"They haven't had much time to integrate the system with their hardware yet and the initial devices will be a bit of a stopgap."
"The models released in six months' time will be a much better reflection of the potential for Microsoft's software and Nokia's designs."