Brazil cuts interest rates despite rising inflation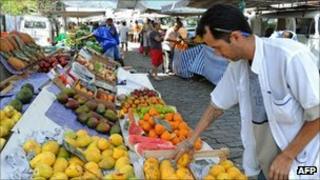 Brazil's central bank has cut the country's key interest rate to 11.5% from 12%, citing the continuing slowdown in the global economy.
The bank cut rates at the end of August, after raising them five times this year to combat rising prices.
Despite the inflation rate rising to 7.3% in September, all seven members of the bank's rate-setting committee voted for the latest cut.
Last month, the bank cut its economic growth forecast for 2011 to 3.5%.
This is less than half the 7.5% growth recorded last year.
Above target
The bank said that a "moderate adjustment to the base rate" was needed in order "to mitigate at this moment the effects coming from a more restrictive global environment".
Analysts said the latest move showed the bank was more concerned with stimulating the economy than with rising prices.
The bank's target inflation rate is currently 4.5%, and the current rate of 7.3% is the country's highest in more than six years.
"It is clear that inflation within the official target range is not the bank's priority now," said Newton Rosa at SulAmerica Investimentos.
"Economic growth is now the priority amid a turbulent international scenario."
Some analysts have criticised the bank for lowering rates in the face of rising prices, arguing it has given in to political pressure.
Before the rate cut in August, the government had implemented a number of measures designed to prevent the economy from overheating.
It announced in February 50bn reals ($28bn; £18bn) worth of spending cuts.
Other anti-inflation measures have included a big increase in banks' reserve requirements designed to hold back lending.