Olympus shares continue to fall amid confusion over fee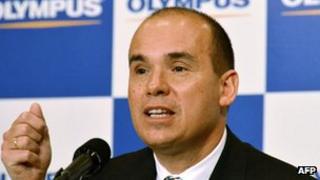 Olympus shares fell for the fifth day after statements issued by the company failed to ease fears about a $687m (£436m) payment to financial advisors.
The Japanese camera maker shed 4.9% on Thursday to 1,321 yen, taking the total fall to more than 45% since Friday.
Over the past two days, Olympus has claimed separately that it paid less than $300m, and at the same time that the $687m figure is correct.
Olympus' former chief executive claims he was fired for probing the fees.
The problems at Olympus broke last Friday when the company fired its chief executive Michael Woodford for what it said were differences in management policy that were "causing problems for decision-making by the management team".
Mr Woodford immediately went on the attack, claiming he was dismissed for questioning payments surrounding Olympus's acquisition of British medical equipment company Gyrus for $2bn.
Different opinions
The advisory fees paid equal almost a third of the acquisition price, compared with an industry standard of between 1% and 5% of a deal's value.
However, the two sides have been engaged in a battle of views over the payment of the fees.
Olympus chairman Tsuyoshi Kikukawa was quoted by the Nikkei newspaper as saying that the fees paid were about 30bn yen ($391m; £248m).
In an email to the BBC, Olympus confirmed that Mr Kikukawa "said the amount was less than half against the reporter's suggested amount of $600m".
However, in a separate statement on its website, Olympus gave a breakdown of the payments made, showing the total amount was $687m.
When contacted by the BBC, the company claimed the difference was because payment made for preferred stock was not a part of the fees.
"In order for our company to obtain 100% ownership of Gyrus, we acquired the preferred stock issued by the financial advisor on March 31, 2010 at $620m," said Satoshi Ikuta of Olympus.