Debenhams reports rising profits and sales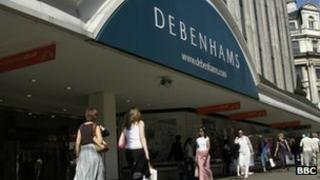 Department store group Debenhams has reported a rise in full year profits and confirmed plans to open new stores.
Pre-tax profits were £160.3m over the 53 weeks ending 3 September, marking an 8.6% rise from the year before.
Like-for-like sales - which strip out new stores - were up 1.2%. However, once VAT was excluded they fell 0.3%.
Debenhams also said it planned to open at least nine new stores and revamp a number of existing stores over the next few years.
Debenhams chief executive Michael Sharp said: "We have demonstrated the resilience of the department store model by trading well in a challenging market.
"It is right to remain cautious about the strength of consumer confidence over the next 12 months given the uncertain economic outlook.
"We will therefore continue to run the business with tight management of costs and stocks."
Expansion
The firm currently operates 169 stores in Britain, the Irish Republic and Denmark as well as 64 franchised outlets in 25 countries.
Outlets are run under either its Debenhams brand or the name Magasin du Nord, a Danish retailer it bought in November 2009.
Outlining its growth plan for the UK and the Irish Republic, the company said at least one new store would open in 2012. It has contracts for a further nine, the first of which will be in Chesterfield in 2013. Beyond that it said it was in discussions for nearly 30 more openings.
Overseas, the firm said it expected to double its franchised stores to 130 over the next five years. It also said further acquisitions "remain on the agenda."
Costs up, debt down
Debenhams said its buying teams faced substantial increases in commodity prices over the past year.
The rising cost of cotton had the greatest impact, causing the firm to shrink some package sizes and resource some of its stock.
However, it still managed to cut its borrowings.
The firm's net debt now totals £383.7m, which is £133.1m less than at the start of its financial year.