Private sector rents 'at new high in England and Wales'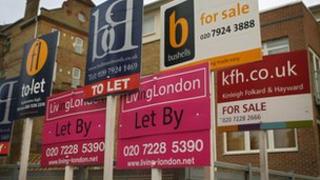 Average private sector housing rents in England and Wales rose by another 0.7% last month, to hit a new monthly high of £718, a report has said.
It means rents have risen by 4.3% in the past 12 months, with tenants paying an average £29 a month more than they were a year ago.
The figures were compiled by LSL Property Services, which owns a number of estate agents and letting agencies.
LSL said rents had risen fastest in the South East and East Midlands.
David Newnes of LSL said rents were rising everywhere, due to high demand from people who were still unable to buy a home, and were being forced to rent instead.
"In many cases, buying a home is now cheaper on a monthly basis - provided renters can get past the stumbling block of the substantial deposit requirements," said Mr Newnes.
"For the majority, saving a £25,000 deposit is a Herculean task as inflation and rents climb - and most would-be buyers are biting the bullet and prolonging their stay in increasingly costly rental accommodation.
"As things stand, we won't see competition amongst prospective tenants diminish without a substantial expansion in the supply of rental properties available on the market," he warned.
Earlier this month, the housing charity Shelter said private rents had become unaffordable in 55% of council areas in England.
It said homes in these areas cost more than 35% of median local take-home pay.