Riot aid left unclaimed while another fund fails to pay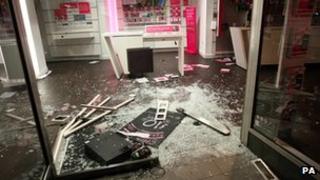 Most of the government money pledged to help small businesses after the riots is unlikely to be paid out, according to a BBC assessment of claims.
Some £20m was allocated to the High Street Support Scheme, but businesses have been slow to claim the money through local authorities.
Separately, the BBC has learnt that a government fund has paid out a tiny fraction of the £250m allocated.
By contrast, insurance companies have paid out more than £200m.
Under the 1886 Riot Damages Act, business are entitled to claim damages from a fund held by the police authorities and administered by the Home Office.
That fund is worth £250m, but the fund has only paid out £3,584 in compensation claims.
This is despite receiving almost 5,000 compensation claims.
People trying to make claims have described the process as arduous.
"They say they want to have evidence for everything," said Siva Kandiah, a small business owner from Hackney. "But some of the evidence was destroyed, or was done 10 years ago."
Bulent Huseyin, who runs VIP Sports in Tottenham, North London, told Radio 4's World at One that he had been through five different people dealing with his claim.
Two different schemes
While the government fund has so far claimed to pay out most of its applications, the High Street Support Scheme has been struggling with a lack of demand.
"We've been quite surprised at the low uptake," said Nigel Godfrey, business manager at Birmingham City Council, referring to one element of the help on offer whereby firms can get their business rates waived for up to six months if their income has been affected by the riots.
"We thought we would have hundreds of people queuing up and banging on the door to get this funding. Not so."
So far, about 100 businesses in Birmingham have claimed £60,000 in rates relief, a small fraction of up to 2,000 businesses which could have claimed under the High Street Support Scheme.
"We can only put the deals and offers out there," added Mr Godfrey. "It is up to the businesses to apply. We cannot make them."
Publicity
Birmingham City Council has been active in trying to get the message out that government money is available for small businesses hit by the riots.
More than 100 shops have been visited by council officers, while numerous business events have been held to publicise the grants available.
The BBC attended one session in which shopkeepers were being encouraged to upgrade their security by purchasing CCTV or shutters.
A grant of up to £5,000 is being offered, but only £22,000 in grants has been paid out so far.
One businesswoman, one of very few attending the session, said she was suspicious of the information being asked for on the grant application form.
"They're asking for things like business bank statements, and you start thinking, 'What are they after? Are they going to start a VAT investigation?'" she said.
"So this kind of thing is very intrusive and I think it is putting a lot of people off from applying."
Confusion
Julia Chance, the district manager for Birmingham Southside, a business organisation, said she thought most small businesses had no idea how to go about applying for public money.
"We've spent a lot of time trying to get the message out to businesses," she said.
"But in most cases these businesses have never seen a grant before. I've been asked five times today, 'Do I have to pay the grant back?' They don't even know what the word 'grant' means."
Birmingham has about £2m available from its share of the £20m High Street Support Scheme.
But the City Council estimates only about a third of the money will be claimed.
Deadlines
There has also been a low take-up in other riot hit areas. Croydon Council has paid out £882,000 from a possible £2m.
Haringey Council has awarded grants worth £135,500. Manchester City Council has paid out £55,000 in grants from a possible £1m share of the pot.
The government has already extended the deadline for councils to reclaim the money from the Support Scheme until January, after councils said the original deadline, in November, was too tight.
A number of businesses in Birmingham told the BBC they had been put off by the short timetable for claims.
"It was a well intentioned idea, but I think the word ill-planned would best describe the scheme," said Dipak Patel, of the Handsworth Traders' Association in Birmingham.
"It left people wondering whether there really was any help or whether it was purely window dressing - a knee-jerk reaction to show that we're doing something, but whether it was taken up or not was secondary."
"It's a crying shame," he added, "Because it would vastly improve the security and long-term viability of many small businesses at a time when they need it the most."
One jeweller, whose shop was trashed in the riots, said he was not eligible for support because his shop was uninsured. The scheme is directed at small businesses, rather than large chains.
The government is not the only organisation to find that sometimes money can't be given away.
In the wake of the riots a charity called The High Street Fund was also set up with £3.3m to distribute to small businesses hit by the riots.
So far, it has paid grants worth £557,000. Trustees are now deciding how to distribute the surplus.