Saab wins $70m lifeline from private equity car-lover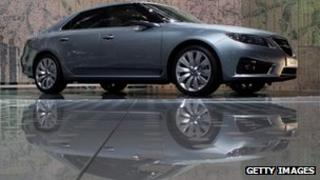 Cash-strapped car maker Saab has secured a $70m (£44.6m) investment from a US private equity group.
North Street Capital is paying $10m for 2.38 million new shares in Saab's parent company, Swedish Automobile. It is providing a further $60m as a loan.
This is the second deal between the two firms in less than a month.
The Connecticut-based investor agreed to buy the carmaker's Spyker luxury sports car business for 32m euros ($43.9m, £28m) on 29 September.
North Street's managing partner is Alex Mascioli, who describes himself as a life-long performance car enthusiast and writes his own car review blog.
Swedish Automobile says it decided to accept his offer because it no longer believes it will receive a promised investment from two Chinese companies.
A company statement said: "It has doubts that the bridge funding of Youngman and Pang Da, of which a partial payment has been received, shall be paid in full on 22 October 2011."
China hopes fade
Swedish Automobile bought Saab from US giant General Motors in January 2010.
Before the summer, Swedish Automobile announced that two Chinese firms would buy minority stakes in the company.
However, these deals have not yet had regulatory approval in either Sweden or China and analysts had cast doubt on whether the Chinese government would approve the investments.
They would also need to be approved by the European Investment Bank (EIB).