Self-assessment tax deadline soon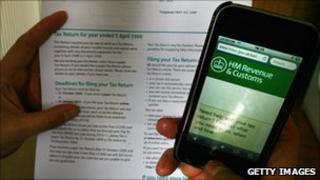 Tax payers who want to send in paper self-assessment returns have until Monday 31 October to do it, or be fined by HM Revenue & Customs.
The system has changed so everyone filing late will have to pay a £100 penalty, even if there is no tax to pay or it is eventually paid on time.
The only way to avoid this will be to use the online filing system, which has a deadline of 31 January 2012.
More than 10 million returns have been sent out for the 2010-11 tax year.
Since the self-assessment system started in 1996-97, most taxpayers using it have switched to filing online.
That became an option in 1999, with more than six million doing so earlier this year.
The system largely covers people who are self-employed or have more than one source of income.
The bulk of taxpayers still pay their income taxes each month through the standard PAYE system operated by their employers.
"The Revenue's objective is to get everybody [in self-assessment] filing electronically," said John Whiting of the Chartered Institute of Taxation (CIOT).
"But there are plenty of people who cannot do so."
New penalties
Before this year, a fine could not be imposed if no tax was owed, as the Revenue's rules stated that a penalty could not exceed any tax due.
This changed in April and a new schedule of penalties was introduced:
A £100 penalty even if the return is a day late and even if the tax owed is eventually paid by the end of next January
If the paper return is filed more than three months late, additional penalties of £10 a day will be levied, up to a maximum of £900
Six months or more late and there will be a further penalty of 5% of the tax due, or £300 - whichever is more
After 12 months, there will be another penalty of 5% or £300
There are also new penalties for making the payments late, which have to be in by 31 January for both paper and online filers.
These fines will amount to 5% of the tax owed, after 30 days, six months, and 12 months.
In April, the Revenue said the new schedule of penalties was aimed at a hard-core of taxpayers who regularly sent their paperwork in late, which caused HMRC a disproportionate amount of time and effort to deal with.
Figures obtained by the law firm McGrigors show that late filing fines have shot up in the past few years and that 1.5 million were issued earlier this year to people who missed the 31 January deadline.
Jason Collins of McGrigors said: "Looking at court judgements it certainly seems that HMRC is churning out fines all too indiscriminately."
"As the number of fines has increased so have number of innocent taxpayers caught by fines," he added.