UK public borrowing lower than expected in September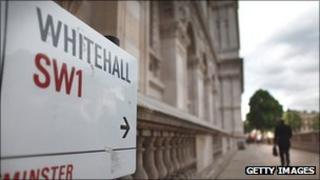 Public sector net borrowing (PSNB), excluding financial interventions, during September fell to a lower than expected £14.1bn.
The Office of National statistics also revised down its borrowing figure for August by £2bn to £13.7bn.
Analysts say the figures mean the government is on track to meet its deficit target.
The government has borrowed £63.5bn so far this year, down £7.5bn on the same period last year.
Borrowing may be higher than expected next year due to increased benefits payments.
Payments are linked to the September inflation rate which reached a three-year high of 5.2%, more than double the Bank of England target.
Borrowing falls
The fall in borrowing in September comes as the government's austerity measures start to kick in.
"What we're seeing is a very sharp cut in investment spending by the government, and revenues rising as a result of VAT receipts. And so these two factors together are helping to bring about an improvement," said Sarah Hewin, senior economist at Standard Chartered.
September's figure, taken with the revised down number for August mean the government may meet its deficit targets.
"On current trends, borrowing is now broadly on track to meet the OBR's [Office for Budget Responsibility's] full year forecast of £122bn," said Samuel Tombs from Capital Economics.
Economic worries
However analysts have warned that the problems in the eurozone, and the government's spending cuts, may hit the economy and make it harder to sustain borrowing reductions.
"It is highly likely that the public finances will be increasingly pressurised by muted economic activity eating into tax revenues and pushing up unemployment benefit claims," said Howard Archer from IHS global insight.
The TUC has claimed that increased unemployment, and rising benefit payments, have cost the government £3bn so far this financial year.
The government has said the austerity plans are necessary to cut the deficit.
"One year on from the spending review, and despite the global economic turbulence stemming from the crisis of confidence in the eurozone, today's figures show the government's progress in delivering its deficit reduction plan," said a treasury spokesperson.
Britain's total public sector net debt, excluding financial sector interventions, rose to 62.6% of GDP in September. Including the cost of bank support, it held steady at 147.6% of GDP.