McDonald's profits rise on value product sales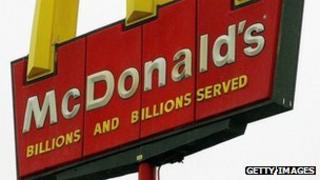 McDonald's third quarter profits have risen 9%, the ninth increase in a row, as introducing cheaper food items helped to boost sales.
The US fast food giant made a net profit of $1.5bn (£942m) in the three months to 30 September, up from $1.4bn a year earlier.
Its revenues for the quarter rose 13.8% to $7.2bn, while sales at stores open for more than a year added 5%.
McDonald's is also continuing to enjoy higher coffee and smoothie sales.
These lines are important to the company, as they provide higher profit margins than its traditional food items.
Its same-store sales, which pull out the impact of new openings, rose by 4.4% in the US, 4.9% in Europe, and 3.4% across Asia, the Middle East and Africa.
McDonald's said sales were also lifted by its continuing store refurbishment programme.
Its latest quarterly results beat market expectations.