China's Wen says country must control inflation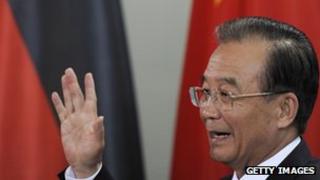 China's Premier Wen Jiabao says the country must control food and property inflation to ensure social stability.
The remarks came after the premier visited fresh food markets in south western China over the weekend.
Inflation in China eased slightly in September but high prices remain a concern for the country's population.
Consumer prices rose 6.1% last month, compared with the same month last year, the National Bureau of Statistics said.
"The first step to controlling inflation is the proper management of food costs," Mr Wen said, after visiting pork sellers in the city of Nanning.
The premier said it was important to ensure adequate food supplies and increase the amount of agricultural reserves.
He also addressed soaring home prices, which is a critical issue for many Chinese households.
Mr Wen acknowledged that a lack of adequate capital was delaying plans to construct affordable housing in the province of Guangxi.
China's central government has implemented a number of measures to control inflation and slow economic growth.
Its economy grew by 9.1% in the three months to the end of September from a year earlier, down from 9.5% in the previous quarter.