Japan's finance minister prepared to take action on yen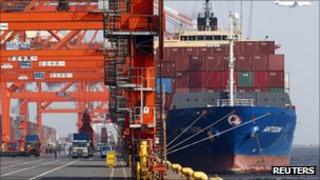 Japan is prepared to take action in the foreign exchange market to stem the rising yen currency, according to its finance minister.
The remarks by Jun Azumi succeeded in weakening the value of the yen against the US dollar in Monday trading.
The yen hit a record high against the dollar in New York on Friday.
Mr Azumi's comments came as Japan reported export growth of 2.4 percent in September compared to a year ago, according to the Ministry of Finance.
That follows a month of growth in overseas shipments during August.
Record high
Japan's exports, hard hit by the earthquake and tsunami that struck in March, have been dented by the strength of the yen.
A strong yen makes Japanese products more expensive in overseas markets compared to Asian rivals such as China and South Korea.
Last week, the yen touched 75.78 against the US dollar, alarming Japan's companies and government officials.
"This is an utterly speculative move and not reflecting the economic fundamentals at all. This is regrettable," Mr Azumi said.
"If this move becomes excessive, we have to take decisive action. I already instructed my staff on Saturday to be prepared to take action."
His comments will be seen as a warning to currency speculators whose actions could be contributing towards the yen's rise.
Now, investors are waiting to see if the government will directly intervene in the currency markets again.
The last time officials intervened was in August, when they spent a record amount of money trying to weaken the yen.