Eurozone companies struggled in October, PMI data shows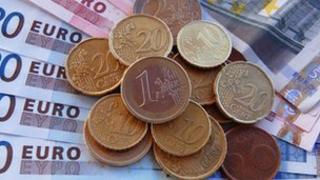 Activity among eurozone companies contracted during October, according to the latest snapshot of the sector.
The latest Purchasing Managers Index (PMI) figures showed a second month of contraction in the private sector - leading to fears of a recession in the single-currency region.
The PMI reading fell to 47.2 in October from 49.1 in September, the fastest rate of decline since July 2009.
A reading above 50 shows expansion, while below 50 shows contraction.
The figures demonstrate the weakness of the eurozone economy, which is adding to the worries about the currency bloc as it tries to resolves its debt crisis.
Over the weekend, EU leaders met to try to agree measures to resolve the crisis, and another summit is planned for this Wednesday.
The weekend meeting agreed to force banks to protect themselves against future losses, and to increase the size of the eurozone's bailout fund.
Crisis spillover
France's composite PMI, which measures growth across the private sector, fell to a 29-month low of 46.8 in October from September's 50.2.
"The French economy lurched into contraction at the start of the fourth quarter, " said Jack Kennedy, a senior economist at Markit.
"Clearly, the spillover into the real economy from the European debt crisis is biting hard, with demand and confidence having taken a hit."
France's service sector suffered from a lack of new business.
The German manufacturing sector - the benchmark for Europe success - shrank slightly in October - ending a 27-month period of continuous expansion, down to 48.3 from 50.9 in September.
It pointed to a lack of orders and a slowdown in export demand.
Germany's services sector rose slightly in October but the manufacturing slowdown overshadowed the growth.
Last week, Angela Merkel's government cut its 2012 growth forecast from 1.8% to 1% amid slowing demand for exports.