Ryanair boss Michael O'Leary outlines expansion plans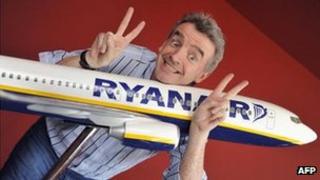 Ryanair boss Michael O'Leary has unveiled plans to double the size of the airline.
Talking to the Financial Times, Mr O'Leary said he wanted to increase passenger numbers from 72 million to 120-130 million over the next decade.
The company is also looking to buy up to 300 new aircraft, despite the economic uncertainty, he said.
The company is talking to Russian and Chinese manufacturers, as well as Boeing, about the deal.
If implemented the expansion would make Ryanair one of the biggest airlines in the world.
Mr O'Leary said that troubles in the eurozone could help it to increase its market share by boosting demand for low-cost travel.
All of Ryanair's current fleet of 270 planes are manufactured by US plane maker Boeing.
However, Mr O'Leary suggested he was now talking to other manufacturers, including China's Comac and Russia's Irkut, about a deal to buy new aircraft.