US home borrowers get new support to refinance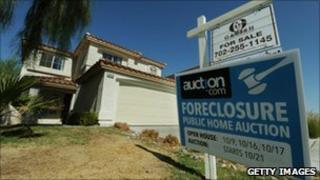 The US housing market regulator has agreed to extend a refinancing scheme for borrowers whose loans are worth more than their homes.
The move by the Federal Housing Finance Agency (FHFA) could help up to a million people who have met repayments but who are unable to renegotiate.
However, it is expected to help fewer than 10% of people in that position.
It is estimated there are 11 million "underwater borrowers" in the US who pay on time but are locked into loans.
The latest move to help boost the flagging US housing market is aimed at unable to change the terms of their loan because the value of the property it is secured on is smaller than the amount they owe or want to borrow.
Abandoned developments
The FHFA said it was scrapping a cap that excluded borrowers with mortgages worth more than 125% of their property's value from the Home Affordable Refinance Program (Harp).
That program covers loans backed by the mortgage giants Fannie Mae and Freddie Mac, the two largest sources of mortgage financing in the US.
The FHFA said it wanted to focus on people who took out loans between 2004 and 2008, with interest rates of 5%. Currently a typical 30-year loan, the most common in the US, is charged at 4%.
The housing market is seen as one of the central problems for the US economy and previous attempts to boost it have barely succeeded.
Large areas of the country have seen wide-scale repossessions, leading to abandoned housing developments.
The Obama administration hopes that lowering mortgage payments could release cash for other spending to support the economy, analysts say.
Fannie Mae and Freddie Mac have had $141bn in taxpayer support since 2008, when the credit crisis left them in deep difficulties.