India raises interest rates and cuts growth forecast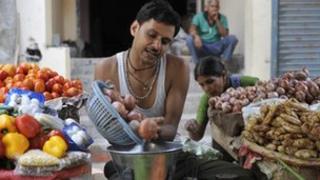 India's central bank has raised interest rates and cut its growth forecast amid high consumer prices and slowing global growth.
The Reserve Bank of India (RBI) raised its key rate to 8.5% from 8.25%, the 13th increase since March last year.
The increase comes amid a high rate of inflation that saw consumer prices rise 9.72% in September from a year ago.
The RBI also cut its growth forecast to 7.6% from 8%, citing worsening global economic conditions.
"Slower global growth will have an adverse impact on domestic growth, particularly on industrial production, given the rising inter-linkages of the Indian economy with the global economy," the central bank said in a statement.
'Bad shape'
Consumer price growth has become a hot political issue for the government and a major threat to the country's economic growth.
Despite efforts by the central bank, the rate of inflation has continued to remain high.
"Of larger concern is the fact that even with the visible moderation in growth, inflation has persisted," the bank said.
The RBI warned that it expected consumer prices to remain high in the short term.
"Inflation is broad-based and above the comfort level of the Reserve Bank. Further, these levels are expected to persist for two more months."
Analysts said that, given the high rate of inflation, the central bank had no other choice but to increase the cost of borrowing.
"Inflation has taken a bad shape for the economy. And if the central bank would have paused right now, there could have been a bubble formation somewhere in the economy." said Arun Singh of Dun & Bradstreet.
"The RBI knows this and, therefore, taming inflation will remain its top priority." he added.
Double whammy
The stubborn price growth has forced the Indian central bank to tighten its policy repeatedly over the past year-and-a-half.
There have been concerns that the interest rate increases may hurt India's economic growth. This is after the rate of growth slowed to 7.7% in the three months to the end of June, from 8.8% during the same period last year.
The RBI said that while its policy measures had played a part in the slowdown, external factors also played a key role, not least the slowdown in the US and the continuing debt crisis in Europe.
"Trade and financial linkages increase the risks of euro area instability transmitting through to emerging market economies, which have already experienced large volatility in their financial markets," the bank said.
The central bank warned that if a sustainable solution to the crisis is not found quickly, growth may be hurt further.
"There is a risk of sharp deterioration if a credible solution to the euro area debt and financial problems is not found, in which case it will impact domestic growth through trade, finance and confidence channels."