Peugeot Citroen to cut 6,000 jobs to save 800m euros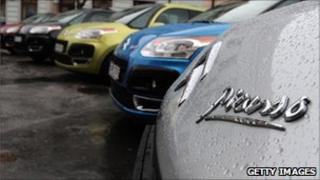 French carmaker Peugeot Citroen has said it plans to cut 6,000 jobs in an attempt to save costs.
The news came as it said automotive revenues fell 1.6% to 9.3bn euros ($12.9bn; £8.1bn) in the third quarter from a year ago, due to a "sharp contraction" in European demand.
The carmaker said its goal was to restore the "automotive division's competitiveness and profitability".
It said the job cuts would save 800m euros in 2012.
"The group's strategy of becoming more global and moving upmarket remains more valid than ever," the carmaker said.
Peugeot Citroen said new vehicle sales had fallen to 6.69bn euros in the quarter, down 3% from a year earlier.
However, sales in China and Latin America both rose 7% from last year.